The manufacturing and on-bench characterization of waste heat recovery systems (WHRS) completed by Marelli Europe!
Two different devices were considered:
Exhaust heat recovery system (EHRS) for engine fast warm-up effect: the device consists of a heat exchanger (HE) and a by-pass tube+valve. When by-pass is closed, exhaust gas passes through the HE and transfers part of its thermal energy to engine coolant that flows in the device as well. The heated coolant promotes engine warm-up during cold starts. The engine fast warm-up enables fuel consumption and CO2 emission reduction. When coolant reaches its maximum target temperature the EHRS by-pass is open and the heat transfer from exhaust gas and coolant is stopped.
Thermoelectric generator (TEG) for electrical energy generation and fast warm-up effect: the device consists of a multi-layer structure where thermoelectric modules (TEMs) are sandwiched between HEs where exhaust gas passes (hot side) and HEs where engine coolant passes (cold side). The temperature difference between hot and cold sides is transformed by TEMs into electrical energy exploiting the Seebeck effect. This electrical energy is used to recharge the low voltage battery decreasing the alternator load and promoting fuel consumption and CO2 emission reduction. Moreover, the heat that flows from exhaust gas to coolant through TEMs contributes to engine warm-up.
Both devices were designed according to specifications, constrains and requirements given by Centro Ricerche Fiat. Prototypes were manufactured and tested on-bench in order to evaluate their performances and characteristics.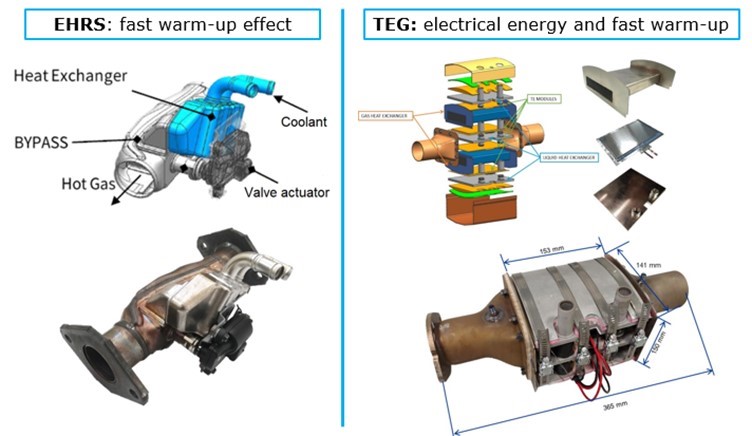 Maximum power output of 166W was measured for TEG on a working point corresponding to RDE cycle, while maximum heat transfer efficiency of 80% was measured for EHRS in transient conditions.
The effect of each device on vehicle performances will be evaluated by Centro Ricerche Fiat through numerical modelling in order to identify which system can be installed on final Phoenice car demonstrator.